Social commerce made simple with
Agorapulse
Easily manage all your social media interactions and boost sales with powerful social commerce features all in one place.
Supported Networks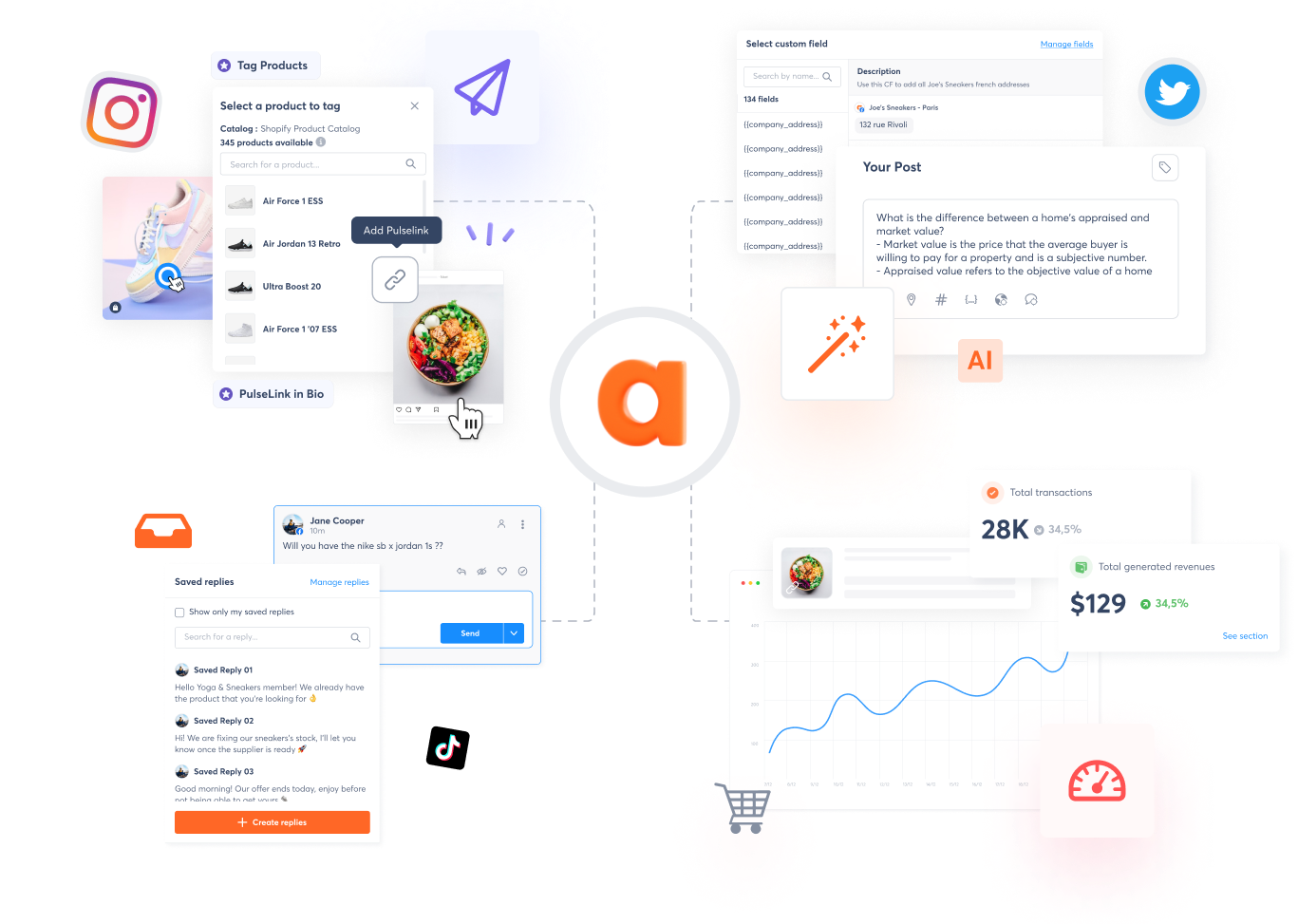 Brands who love us
Why online businesses
love Agorapulse
Save time
Effortlessly manage all your social profiles from one place, without navigating away from a single tab.
Collaborate faster
Seamlessly collaborate with your team on content creation and community management.
Streamline efforts
Harness the power of the asset library, UTM tracking, and dynamic personalization for multi-location accounts.
Engage and take action
Reply to all comments, ad comments, and direct messages instantly from one platform.
Make data-driven decisions
Run experiments, analyze easy-to-read reports, and make quick decisions to optimize your campaigns.
Be more effective
Speed up your content creation process with Canva integration and AI Writing Assistant.
Limitless growth,
powerful solutions
Boost conversions
Boost your online traffic with clickable PulseLink bio links and maximize sales using Instagram Product Tagging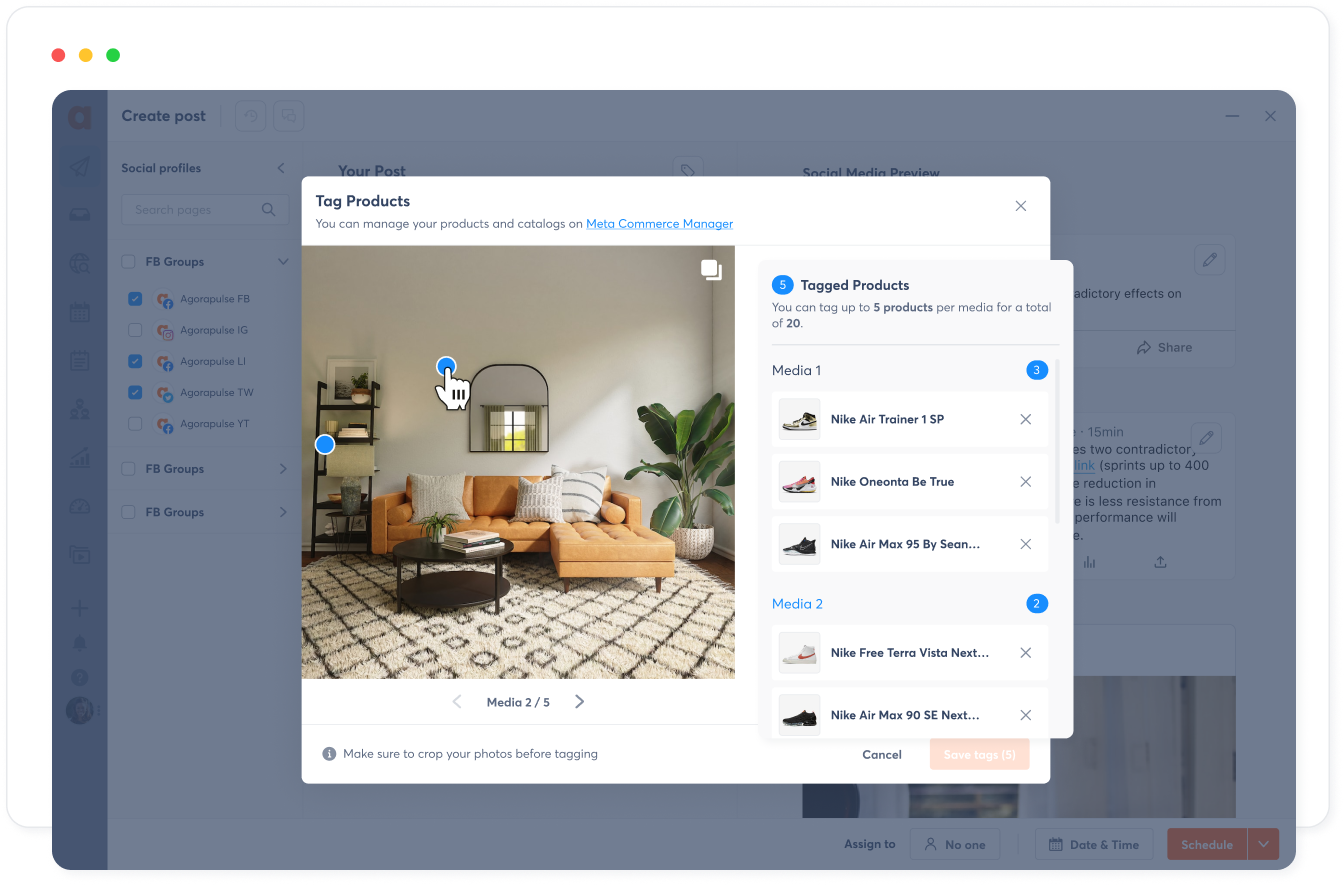 Speed up content creation
Accelerate content creation by leveraging a suite of in-tool features including image cropping, video thumbnail customization, saved hashtags, post previews, and Canva integration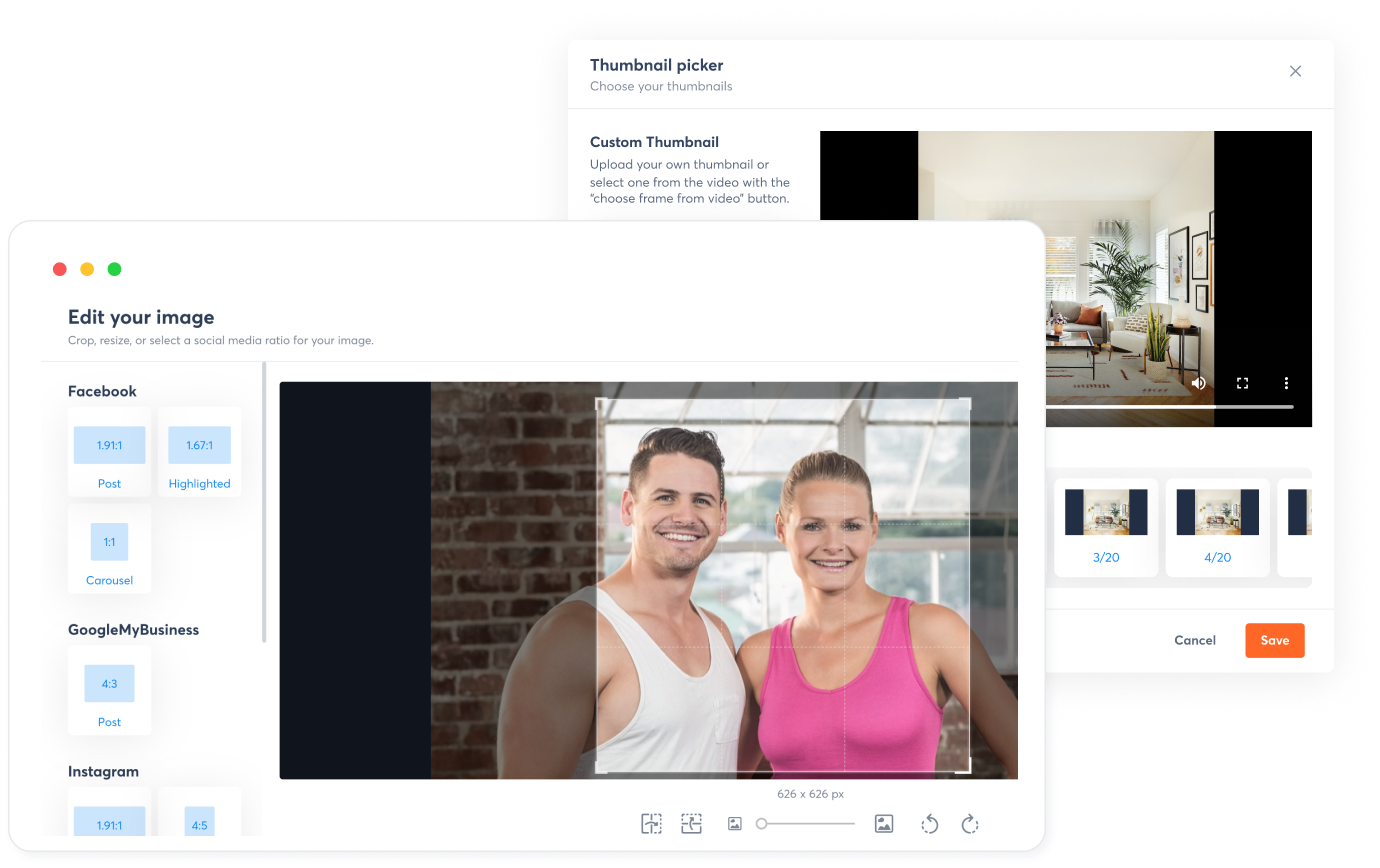 Quickly enhance your content
Leverage Custom Fields for scheduling and adding tailored text to each post, plus, easily refine your message with the AI-powered Writing Assistant to ensure it resonates with your audience.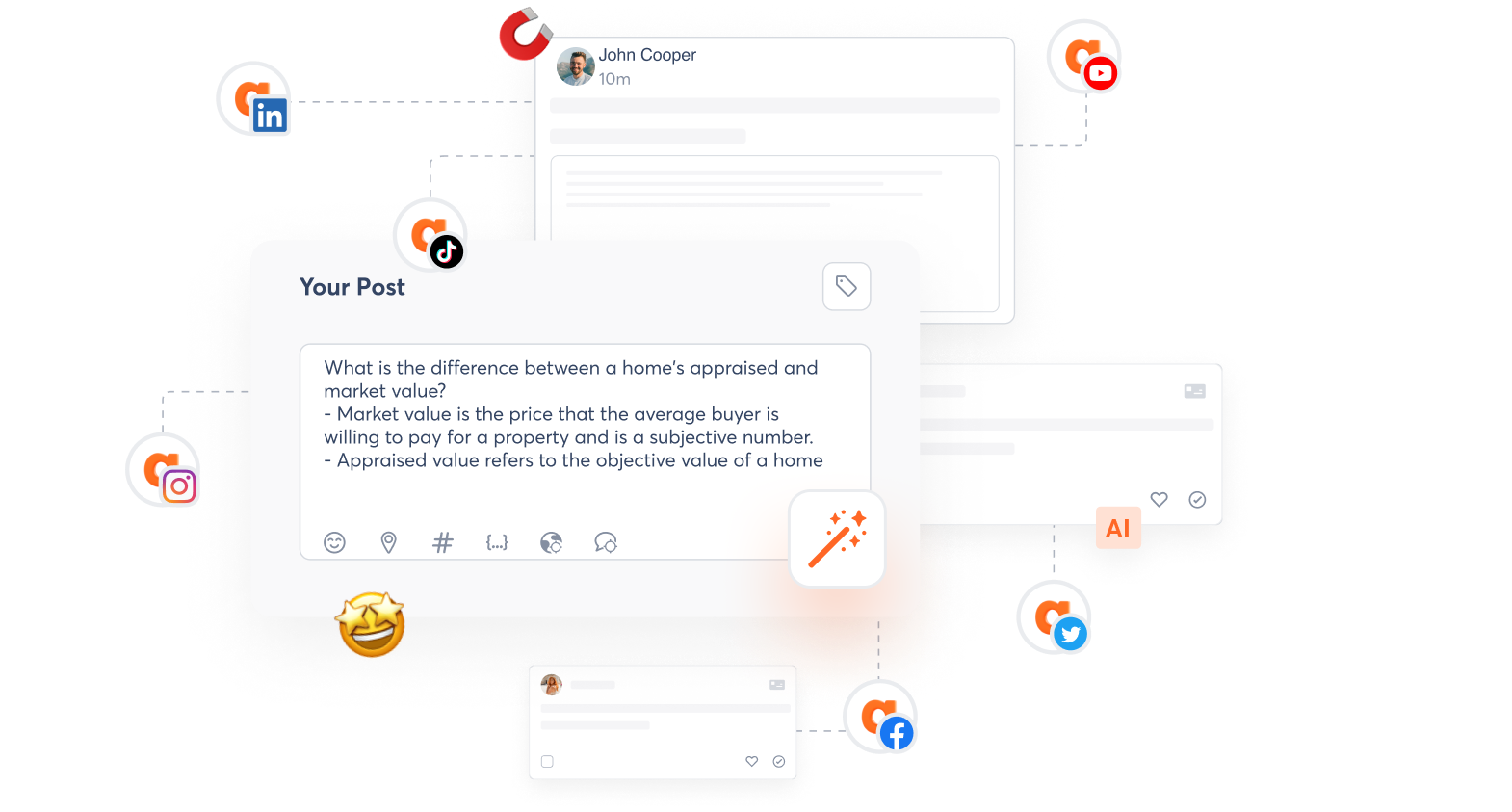 Collaborate with ease
Effortlessly bring your team onboard, designate roles for precise access control, and elevate teamwork with real-time tools like Internal Approval Workflows, Saved Replies, Bulk Actions, a Content Calendar, and Team Performance reports.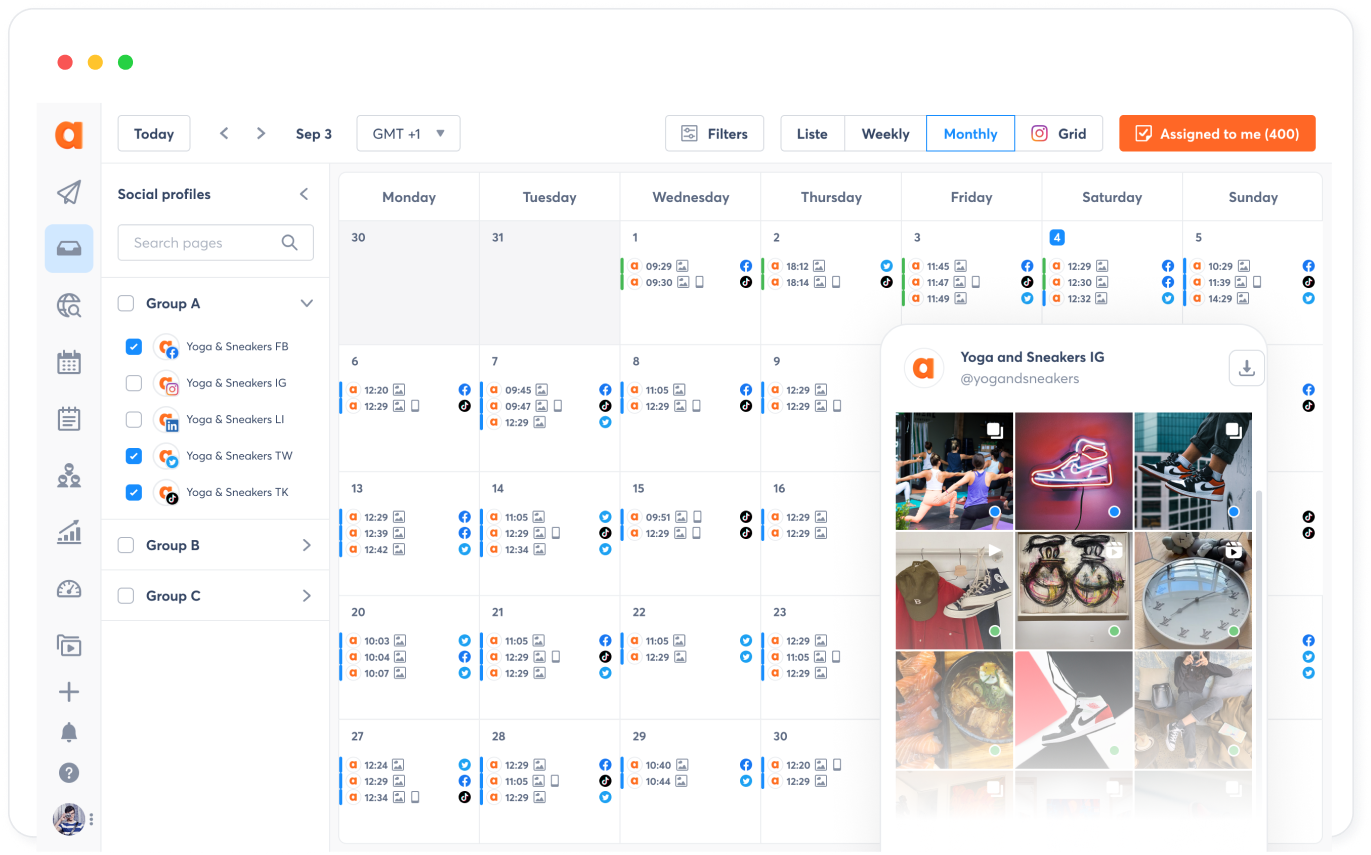 Track your goals and conversions
Integrate multiple Google Analytics accounts with Agorapulse to assess sales, leads, and traffic driven by your social interactions. Dive deeper using your Social Media ROI dashboard to spotlight standout campaigns, channels, and content types.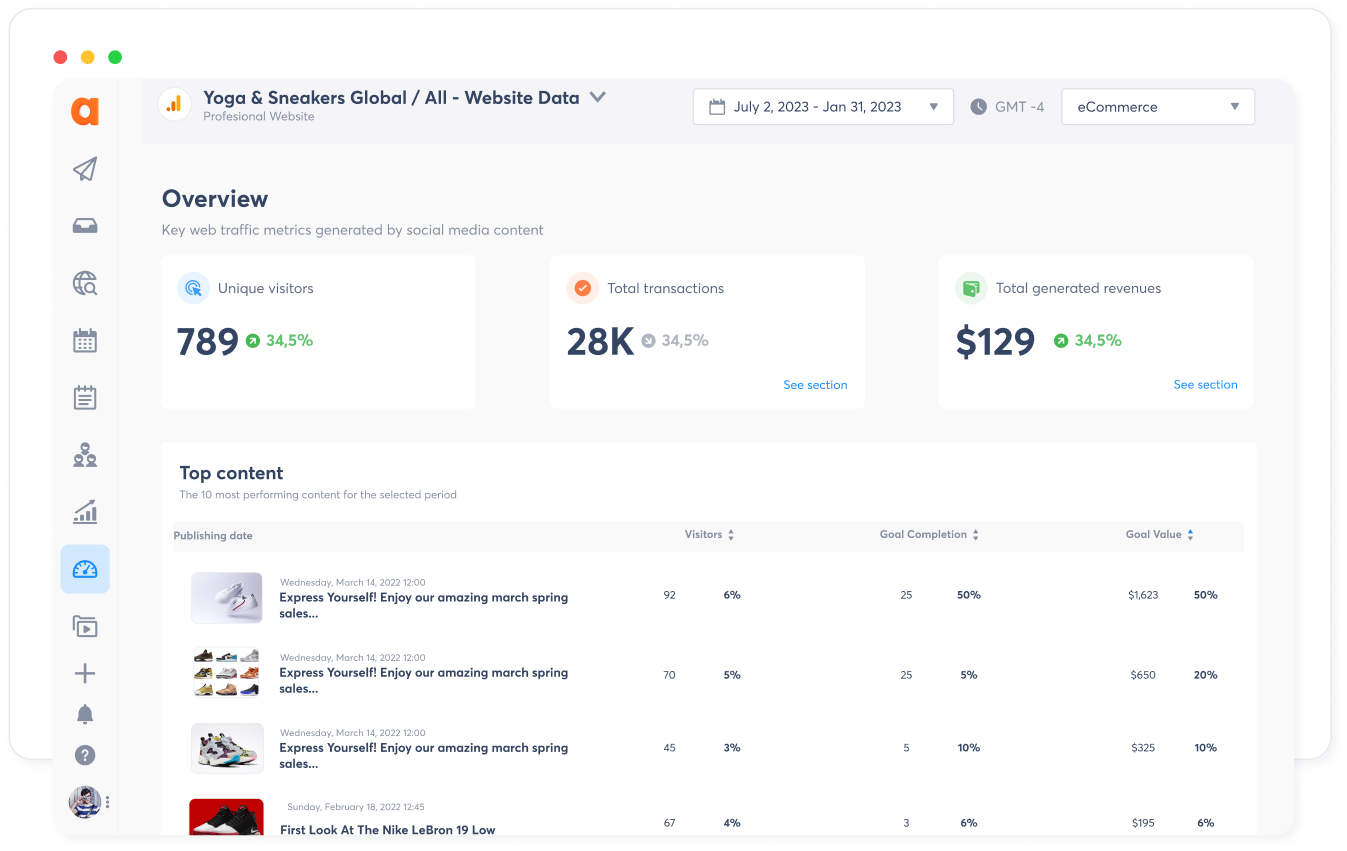 Manage interactions with customers at scale
Respond to comments and DMs using saved answers and assign them to team members, all directly from your mobile, while swiftly handling spam and comments through Bulk actions.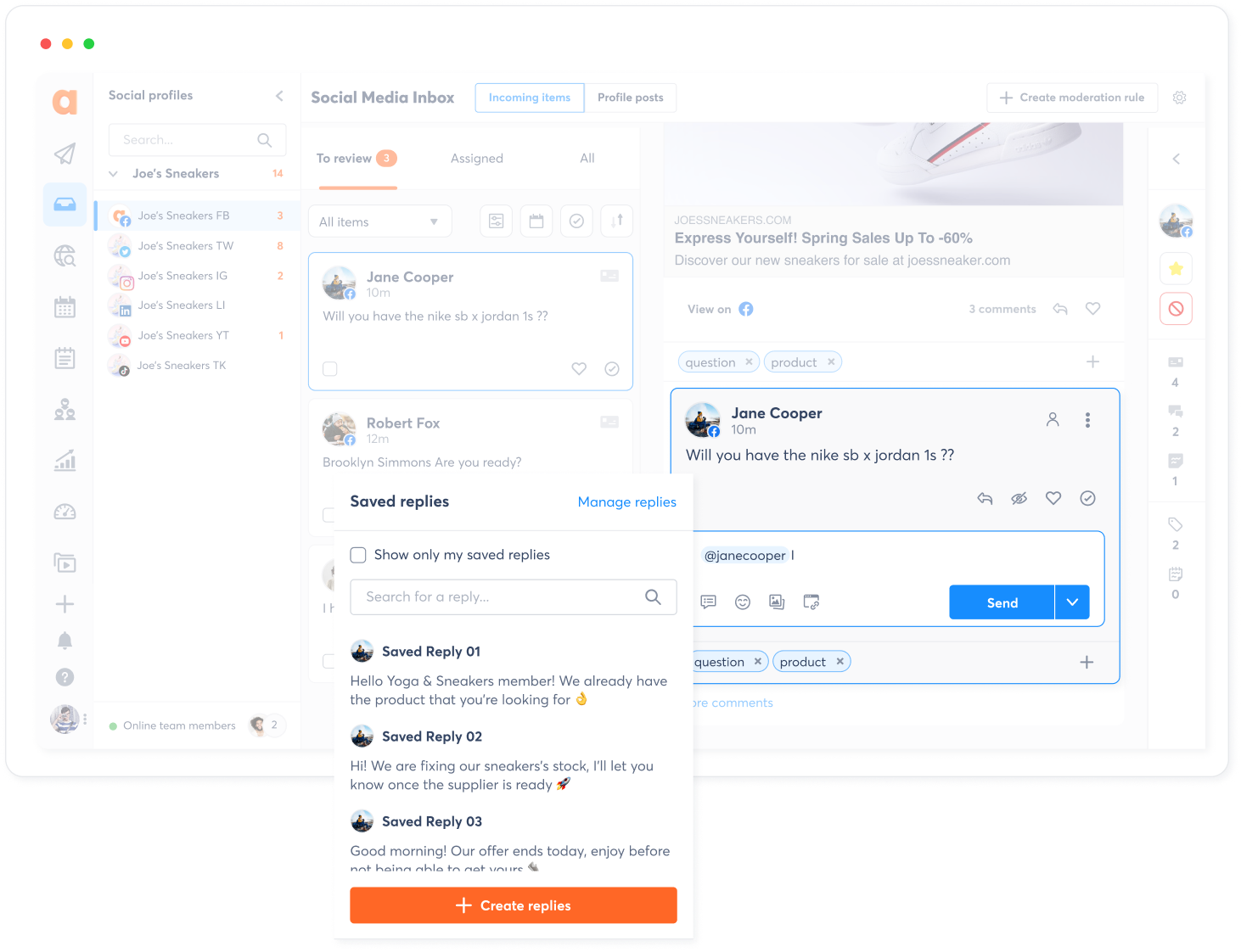 Discover how
Agorapulse empowers


ecommerce businesses:
Case Study
How Homefield Apparel Uses Social Media ROI and Builds Brand Loyalty
Homefield Apparel, based in Indianapolis, IN, turned college sports fans' heritage into unique apparel through effective social media, offering licensed merchandise that deeply resonates.
Case Study
Ecommerce's Smart Social Management: Cost-Efficient Success
Since 2009, Fracture, an international ecommerce company, has transformed customer images into frameless glass prints, fulfilling 200,000+ orders globally and utilizing social media for customer engagement, organic growth, and attracting prospective clients.
Case Study
How Freshly Picked Saves Three Hours A Day on Social
Freshly Picked: Luxury baby goods ecommerce, known for handmade leather baby shoes, skyrocketed from home startup to multi-million dollar success under CEO Susan Petersen's social media mastery.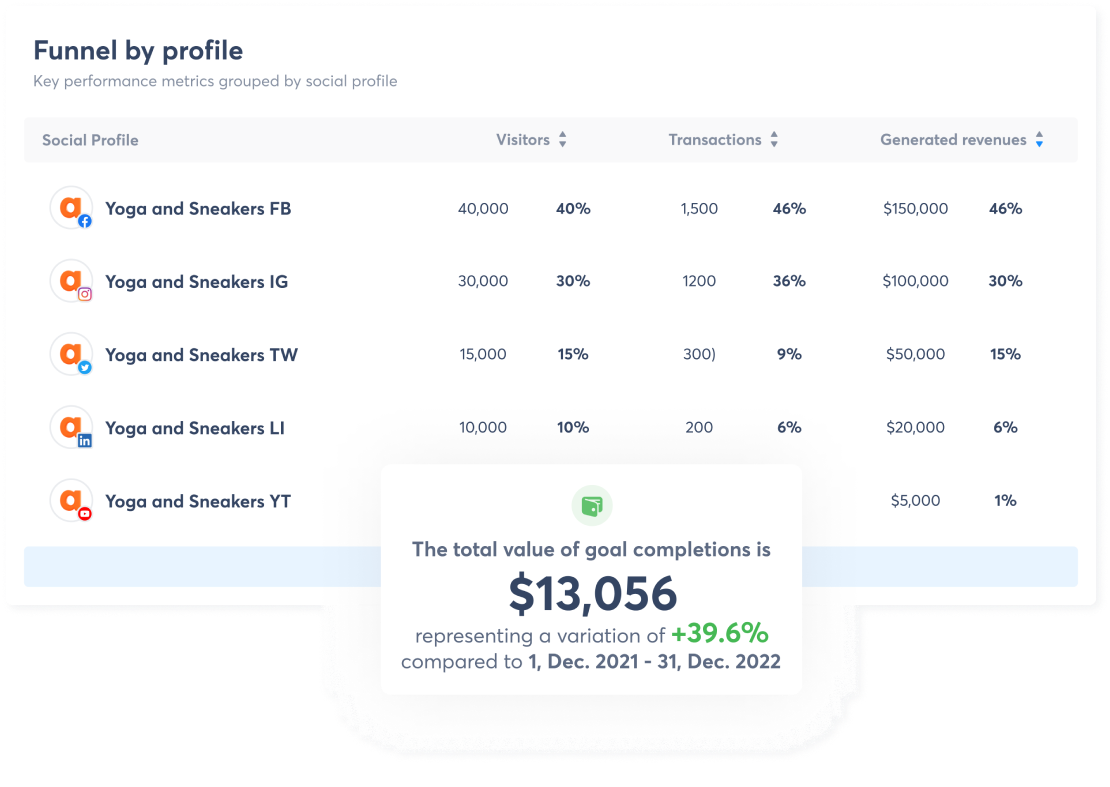 Measure the real
business impact

of social campaigns

Determine the impact of social media, best source by social network, best traffic/conversion event from social with Agorapulse's Social Media ROI.
Access valuable resources to set your
ecommerce business for success:
How You Can Measure Return on Investment for Ecommerce
Find out how to measure ecommerce ROI so you can analyze your efforts, improve your social media marketing strategy, and launch more successful advertising campaigns.
What the Future of Ecommerce Looks Like for Online Retailers
Wondering what the future of ecommerce holds for online retailers? This free ebook gives you the scoop on what to expect and how to adapt.
How to Set Up Facebook Commerce Manager Successfully
Learn the benefits of using Facebook Commerce Manager to sell on Instagram, and how to set up your Commerce Account and create product catalogs.
Everything on the go!
Our mobile app lets you publish and schedule content, manage your social inbox, oversee reports, and do much more on your Android or iOS device from anywhere.
Discover pricing that scales with
your business
We offer an unbeatable price for the most complete solution. No surprises when billed! Just clear, honest pricing.
"Agorapulse has really changed our ability to follow up with customers and make sure we're being responsive and interacting with them when they want."
Jaime Mendelsohn - Director of Customer Happiness, Lovepop